20 november 2022
Cycling mission to Banja Luka – more cyclists in Bosnia
International projects (svenska nedanför)
Michael Koucky is off to Banja Luka (Bosnia) again as part of a two year cycling project that is about to conclude. Cycling levels in Banja Luka are low, but the city has great potential for cycling given its compact urban form and flat topography. Koucky & Partners supports the city in its quest to increase cycling with capacity building, strategic advice and analysis.
Cycling levels are low in Banja Luka, despite the city's flat topography and compact form. As part of a Swedish-Bosnian cooperation to improve air quality, Koucky & Partners supports Banja Luka to increase its capacity and knowledge in cycle planning and strategies with workshops, study tours as well as field visits to Banja Luka.
Since the city has been lacking data on cycling, an analyisis of the current bicycle network as well as a user survey among cyclists was conducted to create a basis for a strategic development and improvement of the network. Banja Luka went from basically no data on cycling to detailed knowledge on a street level. To further improve insight in the development of cycling, a monitoring strategy with permanent and mobile counters is being developed and will be implemented early 2023.
During the current visit, Michael will conduct working meetings with transport planners in Banja Luka to further develop a cycling stategy for the city, participate in a public workshop on cycling and lecture on cycling at Banja Luka University.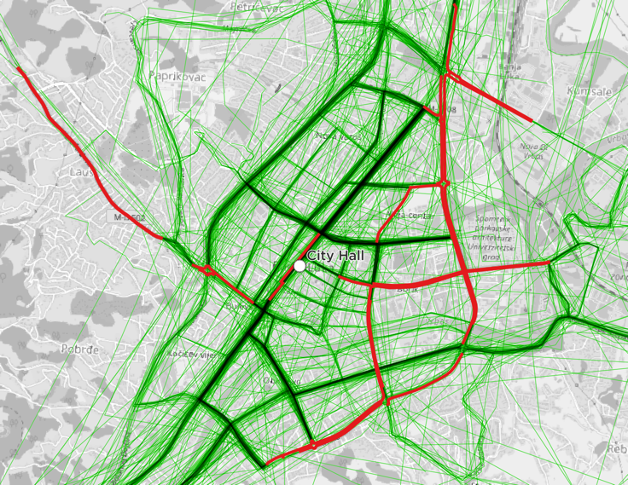 Current bicycle infrastructure (red) and bike lanes desired by cyclists (green)
SVENSK ÖVERSÄTTNING
Michael Koucky har återigen varit i Banja Luka (Bosnien) som en del av ett tvåårigt internationellt cykelprojekt som snart avslutas. I dagsläget är cykelnivåerna i Banja Luka låga samtidigt har staden stor potential för cykling med tanke på dess kompakta urbana form och platta topografi. Koucky & Partners stödjer staden i dess strävan att öka cyklandet genom kapacitetsuppbyggnad, strategisk rådgivning och analys.
Cykelnivåerna är låga i Banja Luka, trots stadens platta topografi och kompakta form. Som en del av ett svensk-bosniskt samarbete för att förbättra luftkvaliteten i staden stöttar Koucky & Partners Banja Luka att öka sin kapacitet och kunskap inom cykelplanering och strategier genom workshops, studieturer samt fältbesök i Banja Luka.
Eftersom staden tidigare helt saknat data om cykling har vi på K&P bistått med analys av det nuvarande cykelnätet samt genomfört en brukarundersökning bland cyklister för att skapa underlag för en strategisk utveckling och förbättring av nätet. Banja Luka gick genom uppdraget från i princip inga uppgifter och kunskap om cykling till gedigna detaljerade kunskaper på gatunivå. För att ytterligare förbättra insikten i utvecklingen av cykling utvecklas en övervakningsstrategi med permanenta och mobila räknare som implementeras i början av 2023.
Under det aktuella besöket kommer Michael att genomföra arbetsmöten med transportplanerare i Banja Luka för att vidareutveckla en cykelstaty för staden, delta i en offentlig workshop om cykling och föreläsa om cykling på Banja Luka University.
Want to know more about international cycling projects. Contact Michael Koucky
Michael has worked for over 20 years with issues around sustainable mobility both in Sweden and internationally and through collaboration at the EU level.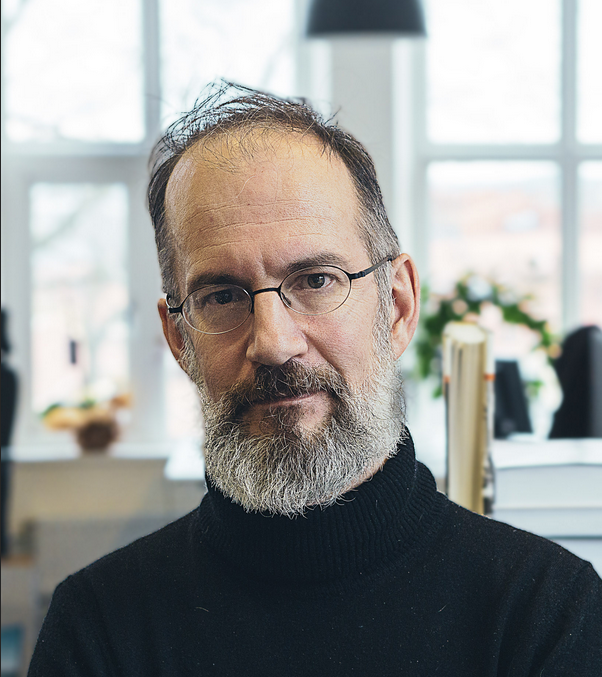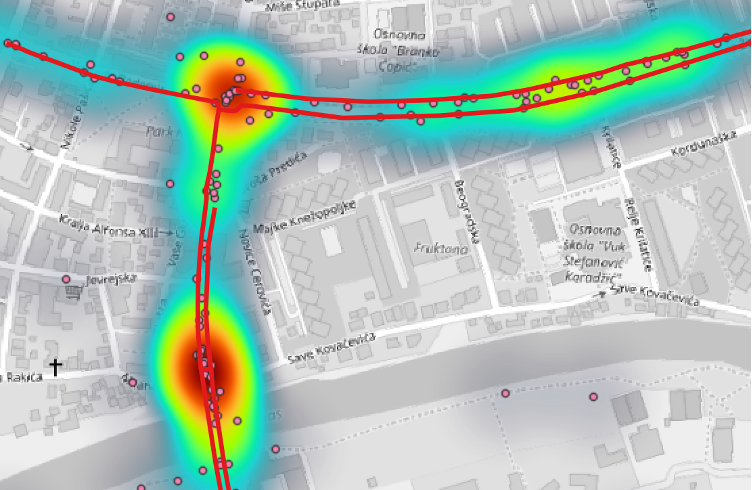 Identified problem areas. Common problems are bad surface, parked cars and pedestrians using bike paths as well as dangerous crossings
Traffic planners from Banja Luka on a study tour to Malmö, exploring the cycling infrastructure and meeting local planners